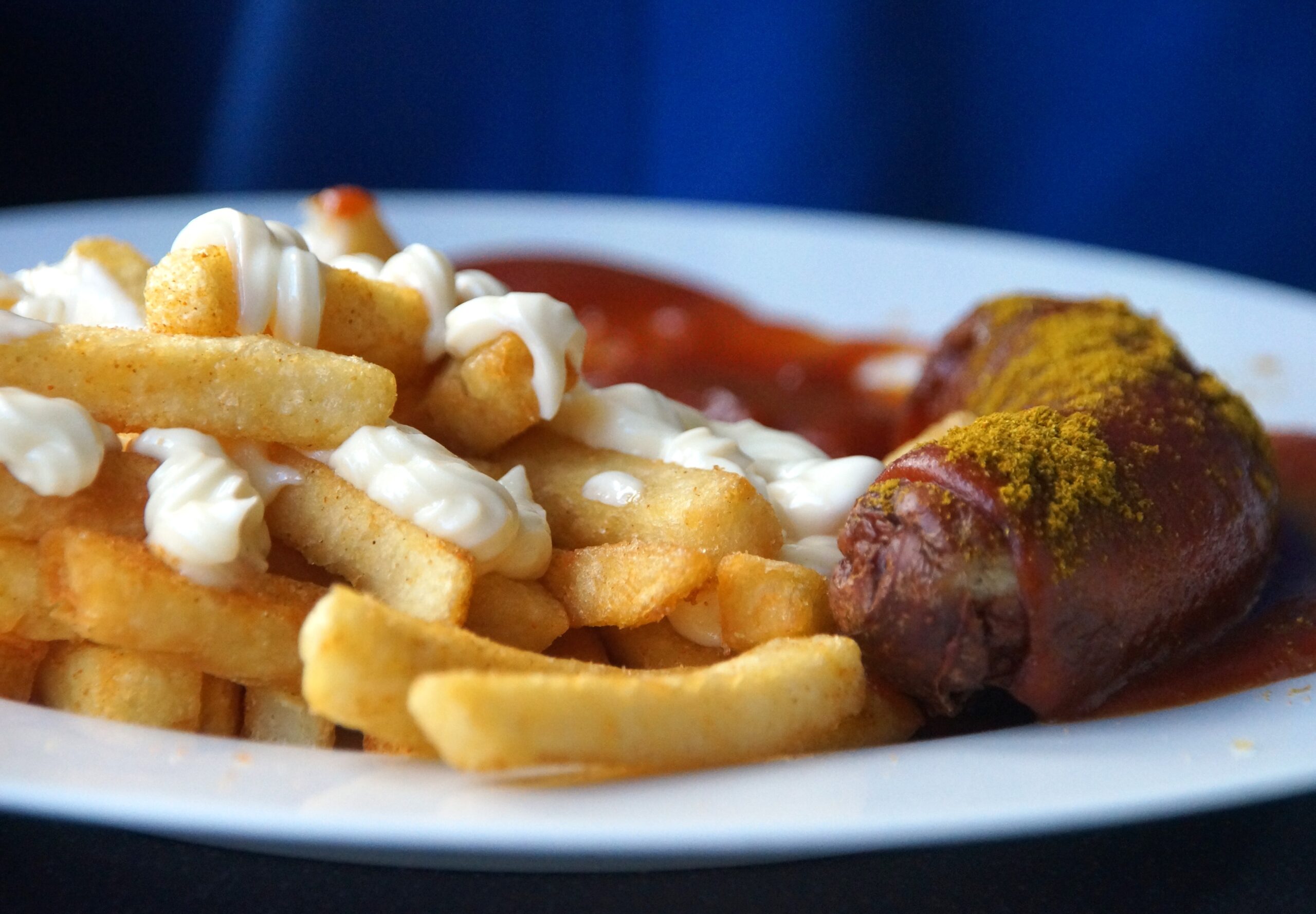 It seems you can't find a place to hide from so-called "fusion" cuisine these days, much of it coming from chefs forcing shotgun weddings of food cultures in an effort to be original. But there are stories of unlikely true love springing out of hardship and despair, and Currywurst is one of them.
Rebuilding Germany after WWII required a lot of labor, and workers were an extremely scarce resource. So the country invited in Gastarbeiter, or guest workers, many of whom came from Turkey. It was only inevitable that iconic tastes from each of these very different cultures would hook up. Food will find a way. The currywurst has become a food stand staple and favorite throughout Germany. Serve with slaw and french fries or roasted new potatoes for a fine informal meal.
To be truly German about this, make sure to eat everything with a fork and knife, even fries. Food stands will always give you a miniature wooden fork with your basket of Currywurst and pommes frites and consider eating with your fingers to be disgusting. Fork stays in the left hand, no switching! Beethoven would never have switched hands with his baton any more than he would have used margarine.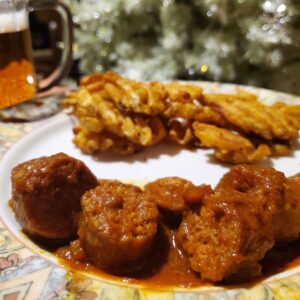 A food stand staple throughout Germany.
Suggested Beverage:
Lager, Ale
Ingredients
1½

pounds

bratwurst

3

tablespoons

butter

1

red onion

,

diced

⅓

cup

beer

28

ounces

tomato sauce

2

tablespoons

curry powder

1

tablespoon

paprika

1

teaspoon

turmeric

,

ground

¼

cup

turbinado
Method
Melt butter in a 12" frying pan over medium-low heat. Add onion and sauté until just beginning to caramelize.

3 tablespoons butter,

1 red onion

Pour in beer and deglaze the pan with a spatula.

Add tomato sauce. Stir in spices and turbinado, simmer for 10 minutes until thickened.

28 ounces tomato sauce,

2 tablespoons curry powder,

1 tablespoon paprika,

¼ cup turbinado,

1 teaspoon turmeric

To serve, cut bratwurst into circles on each plate and cover with curry sauce. Sprinkle additional curry powder on top if desired.
Notes
Turbinado has more depth of flavor than granulated sugar. I use it a lot and highly recommend getting some of your own.
Private Notes