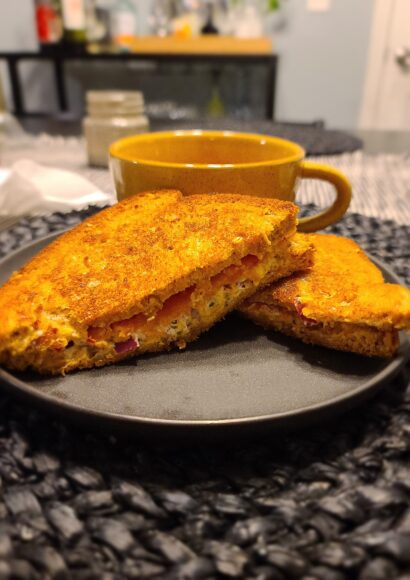 You worked hard to get halfway good at adulting. School? Check. Job? Several. Family? Sheesh, I know it's none of my business and no, I haven't been speaking with your mother. Save the profanity for therapy.
Don't worry, craving a food you loved as a child doesn't mean you have to turn in your voter registration card, unless you happen to be a person of color in the American South. The crunch of golden, buttery, toast, followed by a gush of gooey cheese, and…
Sorry, I'm back. Anyway, no one is telling you to give up grilled cheese after age 18 and there is no scientific evidence suggesting any sandwich can lead to moving back in with your parents. So go ahead, get grilled cheese on the menu plan and, if it makes you feel more grown up or you're working on impressing someone who isn't yet 4-course dinner material, amp it up with some acid and brine. Eat, enjoy, and find a playground to go swinging.
Or you're grounded.

How to Eat A Grilled Cheese
The longest-running disagreement between Frau v. F and me is how to cut a sandwich. She demands that the bread be cut diagonally, while my strongly-held belief is to keep the knife in the drawer so when I bite into it there's no chance of content spillage anywhere but into my mouth.
To dunk or not to dunk? Lots of people like to dunk their sandwich into tomato soup, it's a classic taste combo. Lots of people are daft, too, and there's probably a large overlap between those two groups. Don't make your sandwich soggy; eat your soup with a spoon.
Suggested Beverage:
Orange Juice, Cranberry Juice, Black Currant Juice
Ingredients
2

heirloom tomatoes

,

sliced

½

small red onion

,

diced

4

ounces

whipped cream cheese

4

ounces

shredded cheddar cheese

2

tablespoons

tapenade

8

slices

sandwich bread

3

tablespoons

butter

,

softened
Method
Wrap the tomato slices in a paper towel and put a plate on top to press out some of the water.

Stir the tapenade, diced onion, shredded cheese and cream cheese together in a mixing bowl until they are thoroughly combined.

½ small red onion,

4 ounces whipped cream cheese,

4 ounces shredded cheddar cheese,

2 tablespoons tapenade

Spread the cheese and tapenade mix evenly on 4 slices of bread, then place the tomatoes on top. Top each with the remaining 4 slices of bread.

Spread the butter on the top of each sandwich. Place each, butter side down, in the skillet. Butter the now top, naked, side.

Fry each side for about 4 minutes on each side or until golden and crunchy. Slice if you must, and serve immediately.
Notes
For those who can't seem to wean them off of American artificial cheese food product, go ahead and use it, just don't tell me.
Jarlsberg and co-jack cheeses are worthy substitutions.
Private Notes