Welsh Rabbit, or Welsh Rarebit. Rather than get into the long-running name wars for this I do the germanic thing and call it what it is. I differ from tradition by allowing it to be a touch thicker, adding bleu cheese for extra "bite", and using cream instead of milk because… Cream.
Traditional use is on toast points as an appetizer, but Beer Cheese can easily be eaten on vegetables, fries, sandwiches or a spoon. We have also gone through pounds of the stuff as a chip dip.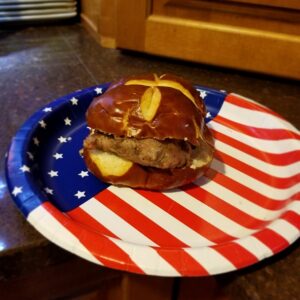 The best all-purpose cheese sauce you will ever have.
Suggested Beverage:
Ale. Cabernet Sauvignton
Ingredients
2

tablespoons

unsalted butter

2

tablespoons

all-purpose flour

½

cup

beer

,

, ale or pilsner are best

3

tablespoons

cream

,

or half-and-half

1

teaspoon

dry mustard

½

teaspoon

mild Hungarian paprika

¼

teaspoon

powdered cayenne

2

teaspoons

Worcestershire sauce

1½

cups

sharp cheddar cheese

,

grated

3

tablespoons

bleu cheese crumbles

,

(optional)
Method
Preparation:

Melt butter over low heat in a small saucepan.

Whisk in flour until combined and cook 1-2 minutes until light brown.

Add beer and cream; whisk to combine.

Season with mustard, paprika, cayenne, and Worcestershire sauce, whisk.

Add cheeses, a little at a time, until they are melted.

Remove from heat and whisk in egg yoSlk.

Serve over toast points or refrigerate for the best cheese spread ev
Notes
People who don't like bleu cheese are often surprised to learn that cheddar  Snacks often have bleu cheese in them.
Private Notes