Guajillos are a very popular dried chile available most stores and online. Milder than jalapenos and with roughly the same heat as anchos (3000 Scoville heat units), they are darker in color than anchos and with a fruitier flavor that makes them perfect for summer but welcome anytime. If you substitute vegetable shortening for lard, this recipe would be vegetarian.
If your sensibilities run hotter than this, add some pasilla and/or peri-peri (bird's eye), ghost or Carolina Reaper chilies to your heart's content. Just use appropriate personal protective equipment.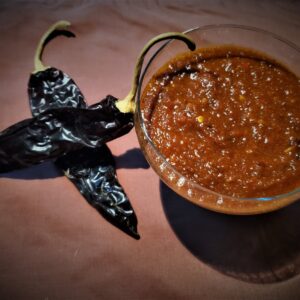 Leave that jar of salsa on the grocer's shelf. This is better, fresher and maybe even cheaper.
Suggested Beverage:
Tequila, Beer
Ingredients
12

guajillo chiles

,

stems and seeds removed and discarded

2½

cups

hot water

3

cloves

garlic

,

chopped

¾

cup

cilantro

,

fresh, chopped

2

teaspoons

lemon juice

1

tablespoon

honey

½

teaspoon

cumin

,

ground

½

teaspoon

oregano

,

Mexican, dried

salt

,

to taste

2

tablespoons

lard
Method
Prepare the Chiles
Put the guajillos into a dry sauté pan over medium heat. Toast them, turning frequently, until they are fragrant, about 2 minutes.

Add the hot water until the chilies are covered, bring to a boil, turn the heat off and let soak for 15 minutes.
Assemble
Toss all the ingredients except lard, including the water you used to steep the guajillos, into a blender. Puree that beautiful red concoction until it's smooth, about 2 minutes. Add more water if it gets too thick. It should be pourable and even a little runny.

3 cloves garlic,

¾ cup cilantro,

2 teaspoons lemon juice,

1 tablespoon honey,

½ teaspoon cumin,

½ teaspoon oregano

If you're feeling all fine, strain it into a mixing bowl and discard the lumpy bits. Me, I'm a fan of the lumpy bits, so I leave 'em.
Fry That Sauce!
Dry the skillet with a paper towel, clean dishcloth, shirttail, or whatever. Just not a car wash chamois. I jest, use one of the first two.

Melt the lard over medium-high heat in your newly-dry skillet. Turn on the exhaust fan and hide the pets, 'cuz we're gonna MAKE SOME NOISE. Once that thing (skillet) is nice and hot, slowly and carefully pour the salsa in, stirring all the while.

When the sauce is all in and bubbling nicely, reduce the heat to low and simmer for about 15 minutes or until the sauce deepens in color and reaches a nice consistency – pourable but sticks to the back of a spoon.
Kick Back
Turn off the heat and go do something else for at least an hour. I don't care what, but don't even LOOK at that sauce or you'll scare the flavors away.

After a full 60 minutes, creep up on the skillet and taste the sauce. Add salt to your heart's (doctor's) content and serve or refrigerate.
Notes
The soaking water can get bitter for some tastes. If you try this and it is too bitter for you, add some more honey and replace the water with chicken stock next time. 
Private Notes