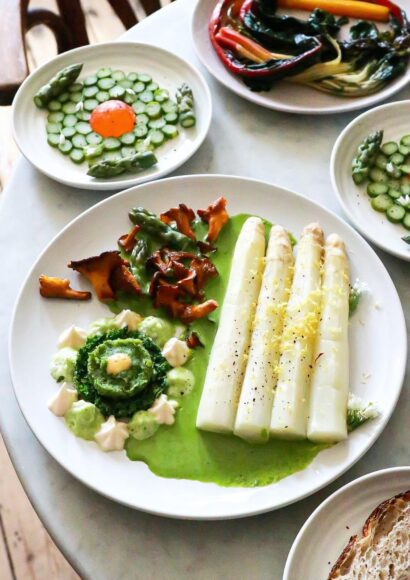 Spargelzeit in German.
The van Food family's favorite food season and a sure harbinger of spring!
Tender, almost buttery stalks of yumminess, with a milder flavor than green. The asparagus stalks are never allowed to be exposed to sunlight. This done by a labor-intensive process where workers get up waaay before dawn to pile up soil before the sun can expose the shoots. No photosynthesis, no green color. Yay, science!
Spargel is especially loved in Germany and Denmark, while rest of the continent isn't as ga-ga over it, which means there is more for us!
Asparagus With Garlic Scape Pesto
A springtime delicacy worth going out of your way to find.
Discover this recipe!

White Asparagus With Hollandaise And Prosciutto
A blissful lunch treat or side dish. So easy and quick.
Discover this recipe!